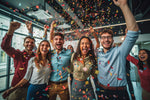 You know that hiring good employees is tough. Finding talented, dedicated people to join your team takes time, money, and effort. So losing them to another company stings. While you can't control everything, you want to do what you can to keep your all-star players around for the long haul. One simple but often overlooked strategy is strategic promotional product gifting.
Promotional products—you know, those logoed items like water bottles, notebooks, and coffee mugs—are an easy, inexpensive way to make your employees feel valued and boost morale. But you have to be smart about what you choose and how you give the items away. Do it right, and those little gifts can have a big impact on how connected and committed your staff feel to your organization.
The Importance of Employee Retention
Employee retention should be a top priority for any company. The cost of high turnover is staggering, from the expenses of recruiting and training new hires to the loss of productivity and expertise. Promotional products that make your team feel valued can go a long way toward building loyalty.
Gift your team members with useful items they'll appreciate and actually use. Think high-quality travel mugs for coffee or tea, stylish backpacks or totes to transport belongings, or desktop accessories to organize their workspace. Little luxuries like gourmet coffee, tea, or snacks are always a hit and make people feel cared for.
Don't forget to personalize gifts when possible. Having an employee's name or initials on an item gives it sentimental value and reminds them they're an important part of the team. You might also consider gifts celebrating key milestones to show you notice and appreciate their dedication and hard work over the long run.
For the best results, distribute promotional products in a meaningful way. Don't just leave gifts on people's desks with no explanation. Present them at a team meeting, company event or one-on-one to personally thank each recipient for their contributions. Your thoughtfulness and recognition will resonate far more than any physical item alone.
With strategic and thoughtful gifting of useful promotional products, you can foster a sense of belonging and community at your company. Your team members will feel seen, valued and motivated to stick around for the long haul. And that, after all, is what great employee retention is all about.
How Promotional Products Can Boost Morale
When employees feel valued and motivated, they're more likely to stick around for the long haul. Promotional products are an easy, affordable way to show your team some love and boost morale.
Little Gestures Go a Long Way
Small gifts, like custom notebooks, pens, or coffee mugs emblazoned with your company logo, give employees a sense of pride in where they work. Handing these out on random "just because" days or as a reward for a job well done lets your team know you notice and appreciate their efforts.
Swag They'll Actually Use
Choose promotional items your employees will find useful, not just more clutter for their desk. Reusable water bottles, wireless phone chargers, fitness trackers — these are gifts they'll use often and in full view of clients or customers, providing free advertising for your brand. When you give practical, high-quality swag, it signals to your employees that you value both them and their time.
One Size Doesn't Fit All
Tailor gifts to your team's specific interests or hobbies. The more personalized and customized the promotional product, the more it will resonate. Get input from managers on what kinds of gear or apparel team members would appreciate. When employees receive a gift clearly chosen just for them, they understand their happiness and well-being are priorities for your company.
Investing in thoughtful promotional gifts for your employees accomplishes so much more than any memo or mission statement ever could. Giving useful, personalized swag is a small gesture that leads to greater loyalty, higher job satisfaction, and a more motivated, dedicated team. And isn't that what every company wants?
Criteria for Choosing the Right Promotional Items
When choosing promotional products for your employee retention campaign, consider items that are useful, reflective of your company culture, and make a meaningful impact. Focus on function, quality and brand alignment to make the most of your investment.
Useful and Practical
Choose items your employees will actually use, rather than toss in a drawer and forget. Things like insulated tumblers, USB chargers, notebooks and pens are always handy. These types of useful products will keep your brand in front of your employees and remind them of your support every time they use the item.
High Quality and Long Lasting
Invest in well-made, durable products that will withstand repeated use over time. Cheap, disposable swag reflects poorly on your brand and won't have the same impact. Look for items with a reputation for quality that come with a solid warranty or guarantee. When employees are still using a product you gave them years later, it reinforces their sense of value to your organization.
Reflect Your Brand and Culture
Choose items that align with and amplify your brand identity and company culture. If you're an innovative tech company, a smart notebook or Bluetooth speaker may be ideal. For a casual, creative culture, an insulated coffee tumbler or tee shirt could work well. When employees receive a gift that resonates with them on a cultural level, it strengthens their connection to the brand and company.
By focusing on these key criteria - useful, high quality and culturally relevant - when selecting promotional products for your employee retention campaign, you'll make a meaningful impact and investment in your people. Giving strategic gifts that are genuinely appreciated and used regularly is a simple way to show you value your employees in the long run.
Creative and Thoughtful Promotional Products Employees Will Love
When choosing promotional products for your employees, think outside the box. Generic mugs and t-shirts won't make a memorable impression. Put thought into finding creative gifts your team will genuinely appreciate. Here are some meaningful options:
Customized notebooks or journals
Employees can never have too many places to write down ideas and notes. A personalized notebook or journal shows you put thought into finding something useful yet unique for them.
Self-care items
Show you care about your employees' wellbeing with pampering gifts like scented candles, bath & body care products, essential oil diffusers or adult coloring books. These types of thoughtful presents will be greatly appreciated, especially by stressed or overworked team members.
Experiential gifts
For a truly memorable gift, provide your staff with opportunities to learn or experience something new. Things like cooking classes, museum memberships, sports event tickets or gift cards to their favorite stores or restaurants are experiential gifts that will long outlast any physical item.
Charitable donations
If your company culture values social responsibility, make a donation to a charity or cause that is meaningful to your employees in their name. This altruistic and compassionate gesture will resonate deeply with them.
When selecting gifts for retention, put in the effort to find options that show you genuinely care. Thoughtful, creative and custom promotional products that align with your employees' interests and values will make the biggest impact. The extra time taken will lead to a happier, more loyal and cohesive team.
Measuring the Success of Your Promotional Product Campaign
Once your promotional product campaign is underway, it's important to measure its success and make adjustments as needed. Some key metrics to track include:
Employee Satisfaction Surveys
Send out periodic surveys to gage how your employees feel about the gifts. Ask questions like:
Do you find the promotional products useful?

Do the gifts make you feel more valued and appreciated as an employee?

What types of promotional products would you like to see more of?
Survey responses will help determine if your campaign is having the desired effect and point you to any needed changes.
Retention Rates
Compare employee retention rates before and after launching your promotional product program. Look for an increase in retention, especially over the first 6-12 months. While gifts alone won't necessarily make or break an employee's decision to stay with a company, they are one factor that contributes to overall job satisfaction and loyalty.
Cost Analysis
Track how much you're spending on promotional products versus how much employee turnover costs your company. The success of the campaign can be measured in part by increased retention helping to offset program costs. If done right, investing in strategic gifting for your team should save you money in the long run.
Social Media Buzz
See if your employees are posting about their gifts on social media or company review sites. Look for positive mentions of the company in these posts as a sign your promotional products are building goodwill. This word-of-mouth marketing and boost in employer brand reputation demonstrates the campaign's impact.
Making an effort to evaluate the success of your promotional product program will allow you to gain valuable insights, make improvements, and prove the ROI of gifting as an employee retention strategy. While measuring success will require an investment of time, the potential benefits to your business and bottom line make it worth the effort.
The holidays are right around the corner, and it's the perfect time to show your employees some gratitude for their hard work and dedication. Handing out thoughtful promotional gifts is an easy way to make them feel valued and boost morale, which pays off in the long run through higher retention rates and productivity. You've put in the effort to find the right promotional products for your team, so make the most of it! Take the time to personally distribute the gifts, say thanks for each person's individual contributions over the past year, and let them know you appreciate them sticking around. Doing so will make the gifts that much more meaningful and help ensure your top talent stays put. Give more, lose less - that's a strategy anyone can get behind.