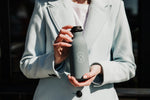 Why Promo Products Matter:
Promotional products are a powerful marketing tool. They help increase brand visibility, create positive associations, and drive customer engagement. But not all promo products are created equal. To find out which ones work best, let's turn to the numbers.
1. Wearables: Fashion Your Brand with Style
Wearable items like custom t-shirts, hats, and embroidered jackets are walking billboards for your brand. According to a survey by the Advertising Specialty Institute (ASI), wearables make up the largest category of promo products, with 35% of consumers owning a branded piece of clothing. This means your logo gets seen not just by the recipient but by everyone they encounter, maximizing exposure.
2. Writing Instruments: The Pen is Mightier
Pens, pencils, and other writing instruments are classic promotional items. ASI's data reveals that 50% of U.S. consumers own a promotional pen. What's more, these items are retained for an average of 9 months. That's nearly a year of brand visibility for a relatively low-cost item.
3. Tech Gadgets: The Future of Promo
In our increasingly digital world, tech-related promo products are gaining popularity. USB drives, phone chargers, and other tech gadgets offer high utility and visibility. The Promotional Products Association International (PPAI) reports that 75% of consumers find these items useful, making them effective brand ambassadors.
4. Drinkware: Sip and Spread the Word
Drinkware, including branded mugs, water bottles, and travel tumblers, are another top choice. PPAI's research indicates that 73% of consumers use promotional drinkware weekly. These items are a fantastic way to keep your brand in your customers' hands and on their lips.
5. Bags: Tote Your Brand Everywhere
Promotional bags, like tote bags and backpacks, offer both practicality and visibility. In fact, ASI found that promotional bags generate more impressions per item than any other product category, making them an excellent choice for maximizing brand exposure.
6. Calendars and Planners: Year-Round Branding
Calendars and planners keep your brand top of mind all year long. PPAI reports that 75% of recipients use these items at least once a day, providing daily exposure to your brand's messaging.
7. Stress Relievers: Squeeze Your Way to Success
Stress balls and similar stress-relieving items aren't just fun; they're also effective. According to ASI, 52% of consumers have a promotional stress reliever at home or in their office, offering a tangible way to ease stress while promoting your brand.
Promotional products are more than just freebies; they are powerful tools for increasing brand awareness and engagement. By focusing on items like wearables, writing instruments, tech gadgets, drinkware, bags, calendars, and stress relievers, you can harness the proven effectiveness of these promo products to boost your brand's visibility.

Remember, the key to successful promotional product campaigns lies not only in selecting the right items but also in creating a thoughtful design and strategy that aligns with your brand's goals. When done correctly, promo products can leave a lasting impression on your audience, driving brand loyalty and growth. So, let the numbers guide you in choosing the promo products that work best for your unique brand.
Ready to discuss what swag is right for your business? Request a quote!