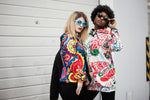 According to reports, 90% of the sales at concerts these days consist of... you guessed it... merch!
In contrast, music sales now only represent a measly 10% of sales at live shows. We live in an age where media is cheap-to-free, so it makes sense that audiences prefer to spend their dollars on swag.
What's more, merchandise isn't just a lucrative revenue stream for musicians. Influencers across the board are capitalizing on this trend by creating their own custom lines of merch. 
To those on the outside, the influencer life may seem effortless and glamorous—but those in the industry know. Online influencers need to hustle to diversify their revenue streams, secure their income level, and create passive income.
As it happens, creating your own merch is a fantastic way to do all of the above. But before you dive into designing your merch line, what should you sell? Not only that, how should you price it?
We have the answers to these questions, so let's dive in and take a look at the best-selling types of merch, as well as how to price them.
T-Shirts
No list of best merch products would be complete without the ever-popular t-shirt. T-shirts are a highly common merch item, and there is a reason for this. People love t-shirts.
T-shirts are one of the most worn apparel items, and also one of the most versatile. 
Besides this, statistics also show that the market for online, original design t-shirts is robust and likely to continue growing. 
All this considered, and you should think twice before assuming t-shirts aren't a good merch item. True, just about every merch line includes t-shirts, but this doesn't mean that yours can't be unique. 
The key with apparel-based merchandise is to start by selecting high-quality apparel items, and then incorporating a design that is unique to your personal brand. A good quality t-shirt, sporting an on-brand, well-printed design is sure to appeal to your audience. 
So how much should one charge for a t-shirt when selling merchandise? T-shirt prices can vary widely, however, we would recommend that you aim for a selling price of $23-$25. This price range should allow you to sell a quality item, without overpricing and putting your tees out of your audience's budget. 
Hoodies
What's better than a t-shirt? A hoodie of course.
For those true fans who want to rock their appreciation for your content all through winter, a hoodie is an ideal merch option. Hoodies are of course more expensive than t-shirts, but this in and of itself may appeal to strong fans. 
Followers who are in love with just about everything you do might want to express this by investing in a branded hoodie. 
Besides giving an opportunity for big fans to show their love with a larger purchase, hoodies are also, like t-shirts, very useful.
Lastly, hoodies are just downright cool. 
What to charge? We would say an average of $30-$45 for a basic hoodie. Of course, if you want to get lux with double layers or fleece linings, then you should charge a little extra to cover the cost of this. 
Mugs
Mugs are another top-selling merch item. Ever popular, mugs make for a budget merch option that is also highly useful. 
What's more, mugs don't have to be worn. In some cases, this can be a selling point. If you have fans that are picky about what they wear, you might find that while they want to support your merch line, they don't want to wear the specific designs. 
In this case, mugs can be ideal. Besides this, mugs also make for great gifts when people don't want to take a chance on clothing not fitting well.
Before we talk about mug merch pricing, let's quickly clarify one other point. Do you find the idea of mugs as merch boring? Are you envisioning those thick-walled, white, badly printed mugs you see all just about everywhere online? 
If so, wipe that image from your mind. You don't have to slap your design on a generic white mug if you don't want to. Instead, you can look into unique mug designs and products that are modern, attractive, and on-point for your personal brand. 
So now, let's talk mug prices. Mugs are typically cheap merch items, that you should look at listing at $15-$19. 
Phone Cases
You have probably seen many a content creator marketing their own customized phone cases. Phone cases are current, trendy, fun, and practical. They are also one of the cheapest merch items, making them highly accessible for all audiences, no matter their budget. 
One thing to be aware of with phone cases is that they aren't a one-size-fits-all-phones solution. You will need to list a variety of sizes to make sure your audience can find the right option to fit their specific smartphone. This can be a bit of a hassle if you are implementing DIY dropshipping.
On the other hand, if you are going with a good dropshipping service for your merch line, this shouldn't be a problem. 
As for pricing, we recommend that you list your branded phone cases for around $10 dollars. 
Do You Need a Turnkey Branded Merch Solution?
If you have developed a following, we think it's time you dropped a branded merch line. And we bet that as you're still here reading—you probably agree.
Whether you are a content creator, online influencer, or twitch streamer—selling merchandise can open up a new income stream, gain you extra exposure, and show your followers that you recognize their support.
However, getting products made, listing them, and shipping them can be time-consuming and complicated. 
If you want to leverage all the potential benefits of selling merch, without the headache that comes with moving products, we're the people you need to talk to.
Here at Uproar Printing, we supply online influencers, content creators, and gamers with a turnkey solution for revenue generation through merch. We offer high-quality products and above industry-standard printing services. Besides this, we also carry out seamless fulfillment and dropshipping services.
Ready to launch that merch line?
Hit us up to get a quote, talk design details, and find out about our incredible pricing.